Adam Gatehouse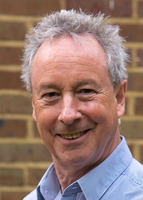 Adam Gatehouse was born in London and began studying the piano at the age of four. He entered the Royal College of Music in London at the age of eleven, studying piano and clarinet.
After graduating with a degree in Music and English, he studied conducting at the Guildhall School of Music in London, where his teachers included Sir Adrian Boult and Andre Previn.
In 1974 he was appointed Musical Director of Ballet Rambert, Britain's oldest dance company, and in the subsequent four years conducted over 600 performances with them throughout Britain and abroad.
From 1978 to 1989 he was Music Director and Principal Conductor of the Dutch National Ballet. He has conducted many of Holland's orchestras, including three of the radio orchestras with whom he has regularly broadcast.
From 1980 to 1990 he was Principal Conductor and Music Director of the Dutch National Youth Orchestra, which he built into one of the most prestigious youth orchestras in Europe with highly acclaimed performances of Strauss, Bruckner, Mahler, Bartok and Stravinsky, and with whom he made many foreign tours to Italy, Greece, Spain, Belgium and Great Britain.
In 1982, Adam made his debut at the Royal Opera House, Covent Garden conducting with the Royal Ballet, to which he returned in 1990. He has also conducted extensively in France (Lamoureux Orchestra, Orchestra de Bordeaux Aquitaine), Spain (Barcelona Symphony Orchestra, Tenerfire Orchestra), Germany, Italy (La Fenice), USA (Brooklyn Philharmonic Orchestra) and Taiwan.
From 1988 to 1992 he was Artistic Advisor to the Concertgebouw in Amsterdam.
From 1991 to 2013, Adam was a producer and later, Editor Live Music, with BBC Radio 3, where he worked with many leading artists such as Mitsuko Uchida, Itzak Perlman, Ian Bostridge, Felicty Lott and Pierre Boulez. In 1998 he launched - and for 15-years produced and curated - the Wigmore Hall Lunchtime Concert Series; Radio 3's flagship Chamber Music Series. Adam also started the LSO St Luke's Lunchtime Concert Series in collaboration with the LSO. In 1999 he created - and for 14-years was Editor of - BBC Radio 3's prestigious New Generation Artists Scheme, which helped launch the careers of over 100 International Artists and Ensembles including: Paul Lewis, Stephen Osbourne, The Belcea Quartet, Alison Balsom, Alice Coote and Janine Jansed - and, more recently, Benjamin Grosvenor and Igor Levit.
While at BBC Radio 3, Adam curated and edited several special composer series, including days for Verdi, Janacek, Berlioz and Walton, plus 2 Composer Weeks devoted to the music of Tchaikovsky (2009) and Schubert (2012).
Adam's programmes have won numerous awards, including the Sony Awards for documentaries about Prokofiev and Rudolf Nureyev.
Adam was appointed Conductor of Ipswich Symphony Orchestra in 2000 and has conducted us in a wide range of repertoire, including symphonies by Tchaikovsky, Shostakovich, Mahler and Bruckner and concertos by Beethoven, Brahms, Elgar and Rachmaninov. He has also attracted leading international soloists to work with the orchestra including John Lill, Noriko Ogawa, Alina Ibragimova, Julian Lloyd Webber, Michael Collins, Nicola Benedetti, Benjamin Grosvenir, Dame Felicity Lott and Imogen Cooper.
In 2013 Adam conducted the world premiere of And The Crowd (Wept); a new opera by Eric Flores and Afsaneh Gray, at Riverside Studios in London, as part of the Tête à Tête Festival, to critical acclaim.
Adam has also served on the juries of the BBC Cardiff Singer of the World and the Leeds International Piano Competition. In August 2015 he was appointed as Co-Artistic Director of the Leeds International Piano Competition with Paul Lewis, becoming sole Artistic Director in 2018.