Richard Armitage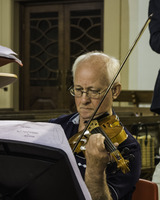 Richard was born in 1946 and lived at Southgate in North London. He started learning the piano at the age of seven but, after reaching grade five, his enthusiasm for practicing scales waned and ultimately his teacher refused to give him further lessons!
He went to Southgate County Grammar School after passing the 'eleven plus' examination in 1957. Whilst there, he started learning the violin, initially with lessons from the school laboratory assistant who taught the instrument in his spare time.
Richard played in the school orchestra (although his first orchestral experience was 'playing' the tubular bells) until leaving school in 1962 to work for the GPO (as it was known then). He continued learning the violin at an evening class for string players at Southgate Technical College.
When sufficiently competent, he progressed to the college orchestra and it was here that he gained most of his early experience in orchestral playing. In addition to orchestral concerts, the orchestra accompanied many operas and musicals performed by the college and local operatic societies.
During the late 1960s/early 1970s, Richard attended several ERMA (Ernest Read Music Association) orchestral courses at Roedean School in Brighton, and even had the courage to have a lesson from Emanuel Hurwitz who was leader of the Aeolian Quartet at that time.
In 1971, he moved to Suffolk with the Post Office Research Department. He initially joined the Woodbridge Orchestral Society, which was then conducted by the now late Bernard Barrell. Later that year he became a member of the Ipswich Symphony Orchestra, which at that time, was conducted by Paul Hardman, a local violin teacher. Concerts were held in the Civic College (now Suffolk College) and rehearsals took place at Bolton Lane School. He was desk partner to Wendy Brown (the orchestra's previous leader) and they sat at the back of the 1st violins. Wendy went on to lead the orchestra for more than 20-years while he was co-leader for about 15 years. Richard was appointed leader in 1994 after Wendy's retirement from the orchestra.
Since moving to Suffolk, he has played in many of the local music groups including Trianon Music Group, the Wolsey Orchestra, and many of the local choral societies both in Ipswich and Bury St Edmunds. He also regularly plays in a string quartet (Opus4). Although the quartet has given classical concerts, public appearances are now usually confined to wedding receptions and birthday parties where Gershwin, Joplin and Lloyd Webber are in the repertoire.
After taking early retirement from BT in 1996, Richard has been able to devote more time to music, both playing and repairing instruments for local players.
Since leading the orchestra, Richard has been privileged to play alongside many eminent soloists including Raphael Wallfisch; Julian Lloyd Webber; Noriko Ogawa; Jennifer Pike; Nicola Benedetti; Natalie Clein; Dame Felicity Lott and Chloë Hanslip.
Richard plays on one of two violins he made in the 1980s under the guidance of the late Harry Runnacles, a local stringed instrument maker and former leader of the orchestra. In 2005, he completed a cello, which has been played in rehearsal by Julian Lloyd Webber.
Richard has twin daughters, Jane and Catherine and three grandchildren (so far!).